About Us
Yau`s Oriental Delight is a Chinese takeaway in London. Why don't you try our Roasted Pork with Cashew Nuts in Yellow Bean or Roasted Duck Fried Rice?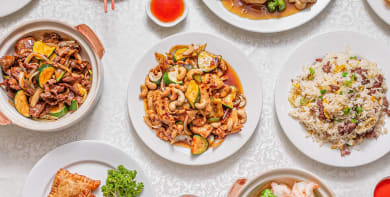 Reviews
115 reviews
cholpon
"Food was delicious and exactly how we were expected. Not the first time ordering from there but will definitely not the last!"
19/09/2020
lorraine
"Every time we order from Yau's, the food has always been lovely."
28/07/2020
Aleksandra
"Service & delivery perfect, all food nice except from tofu, didn't look appetising and taste just mediocre. Also veg chow main came with tofu and it is not specified in the menu."
25/07/2020
Eileen
"Fantastic as always!! Fresh hot and so full of flavour, CONSISTENTLY the best chinese in SE25"
14/07/2020
Menu
Chicken Satay on Skewers (4)
With peanut sauce
£5.50
Crispy Aromatic Duck Half
£15.00
Crispy Aromatic Duck Quarter
£8.50
Deep Fried Butterfly Prawns (8)
With lemon
£6.00
Grilled Handmade Dumplings (8) A. Pork
With vinegar
Yau's special - pork, prawn & chives
£6.00
Grilled Handmade Dumplings (8) B. Chicken
With vinegar
Yau's special - pork, prawn & chives
£6.00
Grilled Handmade Dumplings (8) C. Mixed Vegetables (V)
With vinegar
Yau's special - pork, prawn & chives
£6.00
Grilled Handmade Dumplings (8) D. Yau's Special
With vinegar
Yau's special - pork, prawn & chives
£6.80
Mini Vegetarian Spring Rolls (8)
Suitable for vegetarian
£3.00
Mini Vegetarian Spring Rolls (8)
With Thai sweet chilli dip
Suitable for vegetarian
£3.50
Mixed Hors D'oeuvres (For 2 People)
Sesame prawn on toast, seaweed, mini spring rolls, spare ribs, chicken satay on skewer
£9.00
Roast Crispy Seaweed
Suitable for vegetarian
£4.00
Salt & Pepper A. Chicken Wings
Hot
£5.00
Salt & Pepper B. Chicken
Hot
£5.50
Salt & Pepper C. King Prawns (10)
Hot
£6.00
Salt & Pepper D. Squid
Hot
£6.00
Salt & Pepper E. Mini Spare Ribs
Hot
£6.00
Salt & Pepper F. Tofu (V)
Hot
£5.50
Salt & Pepper G. Chips
Hot
£4.00
Sesame Prawn on Toast (1)
Toast with sweet chilli dip
£4.00
Spare Ribs (5) C. Sweet & Sour
£6.00
Spring Rolls (1)
Chicken & shrimps
£2.00
Vegetarian Chicken Satay on Skewers (4)
With peanut sauce
£5.50
Chips
Suitable for vegetarian
£2.30
Mushroom Omelette
Suitable for vegetarian
£4.70
Thai Special Curry Green
Chicken, pork, beef & king prawns
Hot
£6.50
Thai Special Curry Red
Chicken, pork, beef & king prawns
Hot
£6.50
Bean Curd Curry Green
Suitable for vegetarian
Hot
£5.50
Bean Curd Curry Red
Suitable for vegetarian
Hot
£5.50
King Prawns Curry Green
Hot
£6.50
King Prawns Curry Red
Hot
£6.50
Mixed Vegetable Chow Mein
Mixed Vegetable Fried Rice
Stir Fried Beef in Satay Sauce
£5.00
Beef with Cashew Nuts in Yellow Bean Sauce
£5.00
Beef with Ginger & Spring Onions
£5.00
Beef with Green Pepper in Black Bean Sauce
Hot
£5.00
Crispy Shredded Beef in Chilli
Hot
£6.00
Double Cooked Pork Szechuan Style
Hot
£5.00
Pork in Thai Style Chilli Sauce
Hot
£5.00
Roasted Pork Chinese Style
With bean sprouts
£5.00
Roasted Pork with Cashew Nuts in Yellow Bean
Sauce
£5.00
Roasted Pork with Ginger & Spring Onions
£5.00
Roasted Pork with Green Pepper in Black Bean
Sauce
Hot
£5.00
Roasted Pork with Mixed Vegetable
£5.00
Roasted Duck with Cashew Nuts in Yellow Bean
Sauce
£6.00
Roasted Duck Chinese Style
With bean sprouts
£6.50
Duck with Green Pepper in Black Bean Sauce
Hot
£6.00
King Prawns Chow Mein (8) Large
£6.00
King Prawns Chow Mein (8) Small
£5.60
Mixed Vegetable Chow Mein Large
Suitable for vegetarian
£4.80
Mixed Vegetable Chow Mein Small
Suitable for vegetarian
£4.40
Mushroom Chow Mein Large
Suitable for vegetarian
£4.80
Mushroom Chow Mein Small
Suitable for vegetarian
£4.40
Mixed Meats Chow Mein Large
Duck, pork & chicken
£6.00
Mixed Meats Chow Mein Small
Duck, pork & chicken
£5.60
Mixed Seafood Chow Mein Large
£6.50
Mixed Seafood Chow Mein Small
£6.10
Roasted Duck Chow Mein Large
£6.00
Roasted Duck Chow Mein Small
£5.60
Plain Chow Mein Large
Suitable for vegetarian
£4.00
Plain Chow Mein Small
Suitable for vegetarian
£3.60
Roasted Pork Chow Mein Large
£5.00
Roasted Pork Chow Mein Small
£4.60
Singapore Chow Mein Large
Hot
£5.50
Singapore Chow Mein Small
Hot
£5.10
Singapore Fried Rice Noodles (Vermicelli) Large
Hot
£5.50
Singapore Fried Rice Noodles (Vermicelli) Small
Hot
£5.10
Singapore Fried Udon Large
Hot
£5.80
Singapore Fried Udon Small
Hot
£5.40
Vegetarian Singapore Fried Rice Noodles Large
Vermicelli
Hot
Suitable for vegetarian
£5.50
Vegetarian Singapore Fried Rice Noodles Small
Vermicelli
Hot
Suitable for vegetarian
£5.10
Yau's House Chow Mein Dry
Large
Dry OR with sauce
Chicken, pork, beef, prawn
£6.00
Yau's House Chow Mein With Sauce
Large
Dry OR with sauce
Chicken, pork, beef, prawn
£6.00
Vegetarian Chicken Chow Mein Small
Suitable for vegetarian
£4.60
Vegetarian Chicken Chow Mein Large
Suitable for vegetarian
£5.00
Squid in Thai Style Chilli Sauce
Hot
£6.00
Squid with Ginger & Spring Onions
£6.00
King Prawns with Broccoli
£6.00
King Prawns with Ginger & Spring Onions
£6.00
King Prawns with Green Pepper in Black Bean
Sauce
Hot
£6.00
King Prawns with Mixed Vegetables
£6.00
Stir Fried Chicken in Satay Sauce
£5.00
Chicken Chinese Style
With bean sprouts
£5.00
Crispy Shredded Chicken in Chilli
Hot
£6.00
Chicken with Cashew Nuts in Yellow Bean Sauce
£5.00
Chicken with Green Pepper in Black Bean Sauce
Hot
£5.00
Chicken with Mixed Vegetable
£5.00
Thai Tom Yum Soup with Chicken
Hot
£3.60
Thai Tom Yum Soup with Prawns
Hot
£3.80
Crab Meat & Sweetcorn Soup
£3.00
Mixed Vegetables Soup
Suitable for vegetarian
£2.80
Special Chop Suey
King prawn, pork, beef & chicken
£5.50
Plain Chop Suey
Suitable for vegetarian
£4.00
Mixed Vegetable Fried Rice Large
Suitable for vegetarian
£4.80
Mixed Vegetable Fried Rice Small
Suitable for vegetarian
£4.40
Mushroom Fried Rice Large
Suitable for vegetarian
£4.80
Mushroom Fried Rice Small
Suitable for vegetarian
£4.40
Roasted Duck Fried Rice Large
£6.00
Roasted Duck Fried Rice Small
£5.60
Roasted Pork Fried Rice Large
£5.00
Roasted Pork Fried Rice Small
£4.60
Singapore Fried Rice Large
Hot
£5.50
Singapore Fried Rice Small
Hot
£5.10
Thai Style Special Fried Rice Large
Hot
£5.50
Thai Style Special Fried Rice Small
Hot
£5.10
Boiled Rice Large
Suitable for vegetarian
£3.00
Boiled Rice Small
Suitable for vegetarian
£2.60
Mixed Seafood Fried Rice Large
£6.50
Mixed Seafood Fried Rice Small
£6.10
Mixed Meats Fried Rice Large
Duck, pork & chicken
£6.00
Mixed Meats Fried Rice Small
Duck, pork & chicken
£5.60
King Prawn Fried Rice (8) Large
£6.00
King Prawn Fried Rice (8) Small
£5.60
Yau's House Fried Rice Dry
Large
Dry OR with sauce
Chicken, pork, beef, prawn
£6.00
Yau's House Fried Rice With Sauce
Large
Dry OR with sauce
Chicken, pork, beef, prawn
£6.00
Vegetarian Chicken Fried Rice Small
£4.60
Vegetarian Chicken Fried Rice Large
£5.00
Bean Curd with Cashew Nuts in Yellow Bean Sauce
Suitable for vegetarian
£4.70
Bean Curd in Black Bean Sauce
Suitable for vegetarian
£4.70
Bean Curd in Szechuan Sauce
Suitable for vegetarian
Hot
£4.70
Bean Curd in Thai Style Chilli Sauce
Suitable for vegetarian
Hot
£4.70
Bean Curd with Mixed Vegetable
Suitable for vegetarian
£4.70
Stir Fried Broccoli with Garlic
Suitable for vegetarian
£4.20
Stir Fried Mixed Vegetables
Suitable for vegetarian
£4.20
Stir Fried Mushroom with Oyster Sauce
Suitable for vegetarian
£4.20
Vegetarian Chicken A. Black Bean Sauce (H)
Suitable for vegetarian
£5.00
Vegetarian Chicken B. Szechuan Sauce
Suitable for vegetarian
£5.00
Vegetarian Chicken C. Yellow Bean Sauce
Suitable for vegetarian
£5.00
Vegetarian Chicken D. With Mixed Vegetable
Suitable for vegetarian
£5.00
Pak Choi with Garlic
Suitable for vegetarian
£5.30
Special Set Meal A For 2 Persons - Popular Feast
• Vegetarian spring rolls (8)(with sweet chilli dip)
• Chicken balls (10)
• Chicken with green pepper in black bean sauce
• Roast pork with mixed vegetable
• Egg fried rice OR plain chow mein
£20.00
Special Set Meal B For 2 Persons - Spicy Feast
• Vegetarian spring rolls (8)(with sweet chilli dip)
• Salt & pepper chicken wings
• Crispy shredded beef (Hot)
• Double cooked pork szechuan style (Hot)
• Egg fried rice OR plain chow mein
• Free chilli oil
£21.00
Special Set Meal C For 2 Persons - Seafood Feast
• Sesame prawn on toast (1 toast with sweet chilli dip)
• King prawn balls (8)
• King prawn with mixed vegetable
• Squid with ginger & spring onions
• Mixed seafood fried rice OR chow mein (king prawn, squid & mussels)
£26.00
Special Set Meal D For 2 Persons - Vegetarian Feast
• Vegetarian spring rolls (8)
• Bean curd with mixed vegetable
• Broccoli with garlic
• Vegetarian chicken in black bean sauce
• Mixed vegetable fried rice OR chow mein
Suitable for vegetarian
£21.00
Special Set Meal For 1 Person
• Sweet & sour chicken balls (5)
• Chicken with mushroom
• Egg fried rice (small)
£9.00
Yau's Special Pork Balls 05 Pieces
Marinated minced pork balls with light butter
£3.50
Yau's Special Pork Balls 10 Pieces
Marinated minced pork balls with light butter
£5.50
Vegetarian Chicken in Sweet & Sour Sauce
Suitable for vegetarian
£5.00
King Prawn Balls 04 Pieces
£4.00
King Prawn Balls 08 Pieces
£6.00
Sweet & Sour Chicken Hong Kong Style
£5.50
Sweet & Sour King Prawns Hong Kong Style (8)
£6.00
Sweet & Sour Pork Hong Kong Style
£5.00
Stir Fried Mixed Seafood in Oyster Sauce
£7.00
Beef with Pak Choi in Oyster Sauce
£5.50
King Prawn Tempura (8)
Served with sweet chilli dip
£6.00
House Delight A. Black Bean Sauce
Chicken, pork, beef & prawns
£6.50
House Delight B. Szechuan Sauce
Chicken, pork, beef & prawns
£6.50
House Delight C. Satay Sauce
Chicken, pork, beef & prawns
£6.50
House Delight D. Yellow Bean Sauce
Chicken, pork, beef & prawns
£6.50
Vegetable Curry
Suitable for vegetarian
Hot
£4.50
Special Curry
King prawn, pork, beef & chicken
Hot
£6.00
Mushroom Curry
Suitable for vegetarian
Hot
£4.50
Vegetarian Chicken Curry
Suitable for vegetarian
Hot
£5.00
Contact Us
Find Us
173 Whitehorse Lane, London, SE256RB
We deliver to
BR3, CR0, CR7, SE13, SE19, SE20, SE25, SE26, SW16