About Us
Yau`s Oriental Delight is a Chinese takeaway in London. Why don't you try our Roasted Pork with Cashew Nuts in Yellow Bean or Roasted Duck Fried Rice?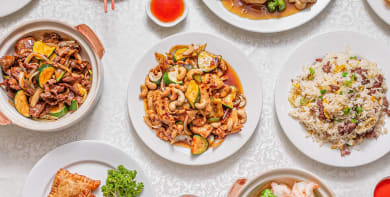 Reviews
109 reviews
Veerle
"Yau's never disappoints!"
05/05/2021
Rosanna
"Really enjoyed, delicious"
24/04/2021
Patricia
"Delicious and hot as always. BUT a king prawn short in my chow mein. 😬"
09/04/2021
Ciara
"Amazing as always!"
26/03/2021
Menu
King Prawn Tempura (8)
Served with sweet chilli dip
£6.00
House Delight A. Black Bean Sauce
Chicken, pork, beef & prawns
£6.50
House Delight B. Szechuan Sauce
Chicken, pork, beef & prawns
£6.50
House Delight C. Satay Sauce
Chicken, pork, beef & prawns
£6.50
House Delight D. Yellow Bean Sauce
Chicken, pork, beef & prawns
£6.50
Beef with Pak Choi in Oyster Sauce
£5.50
Stir Fried Mixed Seafood in Oyster Sauce
£7.00
Mixed Hors D'oeuvres (For 2 People)
Sesame prawn on toast, seaweed, mini spring rolls, spare ribs, chicken satay on skewer
£9.00
Crispy Aromatic Duck Quarter
£8.50
Crispy Aromatic Duck Half
£15.00
Roast Crispy Seaweed
Suitable for vegetarian
£4.00
Sesame Prawn on Toast (1)
Toast with sweet chilli dip
£4.00
Spring Rolls (1)
Chicken & shrimps
£2.00
Mini Vegetarian Spring Rolls (8)
Suitable for vegetarian
£3.00
Mini Vegetarian Spring Rolls (8)
With Thai sweet chilli dip
Suitable for vegetarian
£3.50
Grilled Handmade Dumplings (8) A. Pork
With vinegar
Yau's special - pork, prawn & chives
£6.00
Grilled Handmade Dumplings (8) B. Chicken
With vinegar
Yau's special - pork, prawn & chives
£6.00
Grilled Handmade Dumplings (8) C. Mixed Vegetables (V)
With vinegar
Yau's special - pork, prawn & chives
£6.00
Grilled Handmade Dumplings (8) D. Yau's Special
With vinegar
Yau's special - pork, prawn & chives
£6.80
Deep Fried Butterfly Prawns (8)
With lemon
£6.00
Chicken Satay on Skewers (4)
With peanut sauce
£5.50
Vegetarian Chicken Satay on Skewers (4)
With peanut sauce
£5.50
Salt & Pepper G. Chips
Hot
£4.00
Salt & Pepper A. Chicken Wings
Hot
£5.00
Salt & Pepper B. Chicken
Hot
£5.50
Salt & Pepper F. Tofu (V)
Hot
£5.50
Salt & Pepper C. King Prawns (10)
Hot
£6.00
Salt & Pepper D. Squid
Hot
£6.00
Salt & Pepper E. Mini Spare Ribs
Hot
£6.00
Spare Ribs (5) C. Sweet & Sour
£6.00
Crab Meat & Sweetcorn Soup
£3.00
Mixed Vegetables Soup
Suitable for vegetarian
£2.80
Thai Tom Yum Soup with Prawns
Hot
£3.80
Thai Tom Yum Soup with Chicken
Hot
£3.60
Yau's House Chow Mein Dry
Large
Dry OR with sauce
Chicken, pork, beef, prawn
£6.00
Yau's House Chow Mein With Sauce
Large
Dry OR with sauce
Chicken, pork, beef, prawn
£6.00
Mixed Meats Chow Mein Small
Duck, pork & chicken
£5.60
Mixed Meats Chow Mein Large
Duck, pork & chicken
£6.00
Mixed Seafood Chow Mein Small
£6.10
Mixed Seafood Chow Mein Large
£6.50
Singapore Chow Mein Small
Hot
£5.10
Singapore Chow Mein Large
Hot
£5.50
Singapore Fried Udon Small
Hot
£5.40
Singapore Fried Udon Large
Hot
£5.80
Singapore Fried Rice Noodles (Vermicelli) Small
Hot
£5.10
Singapore Fried Rice Noodles (Vermicelli) Large
Hot
£5.50
Vegetarian Singapore Fried Rice Noodles Small
Vermicelli
Hot
Suitable for vegetarian
£5.10
Vegetarian Singapore Fried Rice Noodles Large
Vermicelli
Hot
Suitable for vegetarian
£5.50
King Prawns Chow Mein (8) Small
£5.60
King Prawns Chow Mein (8) Large
£6.00
Roasted Duck Chow Mein Small
£5.60
Roasted Duck Chow Mein Large
£6.00
Vegetarian Chicken Chow Mein Small
Suitable for vegetarian
£4.60
Vegetarian Chicken Chow Mein Large
Suitable for vegetarian
£5.00
Roasted Pork Chow Mein Small
£4.60
Roasted Pork Chow Mein Large
£5.00
Mixed Vegetable Chow Mein Small
Suitable for vegetarian
£4.40
Mixed Vegetable Chow Mein Large
Suitable for vegetarian
£4.80
Mushroom Chow Mein Small
Suitable for vegetarian
£4.40
Mushroom Chow Mein Large
Suitable for vegetarian
£4.80
Plain Chow Mein Small
Suitable for vegetarian
£3.60
Plain Chow Mein Large
Suitable for vegetarian
£4.00
Yau's House Fried Rice Dry
Large
Dry OR with sauce
Chicken, pork, beef, prawn
£6.00
Yau's House Fried Rice With Sauce
Large
Dry OR with sauce
Chicken, pork, beef, prawn
£6.00
Mixed Meats Fried Rice Small
Duck, pork & chicken
£5.60
Mixed Meats Fried Rice Large
Duck, pork & chicken
£6.00
Mixed Seafood Fried Rice Small
£6.10
Mixed Seafood Fried Rice Large
£6.50
Thai Style Special Fried Rice Small
Hot
£5.10
Thai Style Special Fried Rice Large
Hot
£5.50
King Prawn Fried Rice (8) Small
£5.60
King Prawn Fried Rice (8) Large
£6.00
Singapore Fried Rice Small
Hot
£5.10
Singapore Fried Rice Large
Hot
£5.50
Roasted Duck Fried Rice Small
£5.60
Roasted Duck Fried Rice Large
£6.00
Vegetarian Chicken Fried Rice Small
£4.60
Vegetarian Chicken Fried Rice Large
£5.00
Roasted Pork Fried Rice Small
£4.60
Roasted Pork Fried Rice Large
£5.00
Mixed Vegetable Fried Rice Small
Suitable for vegetarian
£4.40
Mixed Vegetable Fried Rice Large
Suitable for vegetarian
£4.80
Mushroom Fried Rice Small
Suitable for vegetarian
£4.40
Mushroom Fried Rice Large
Suitable for vegetarian
£4.80
Boiled Rice Small
Suitable for vegetarian
£2.60
Boiled Rice Large
Suitable for vegetarian
£3.00
Special Curry
King prawn, pork, beef & chicken
Hot
£6.00
Mushroom Curry
Suitable for vegetarian
Hot
£4.50
Vegetable Curry
Suitable for vegetarian
Hot
£4.50
Vegetarian Chicken Curry
Suitable for vegetarian
Hot
£5.00
King Prawn Balls 04 Pieces
£4.00
King Prawn Balls 08 Pieces
£6.00
Sweet & Sour King Prawns Hong Kong Style (8)
£6.00
Sweet & Sour Chicken Hong Kong Style
£5.50
Sweet & Sour Pork Hong Kong Style
£5.00
Vegetarian Chicken in Sweet & Sour Sauce
Suitable for vegetarian
£5.00
Special Chop Suey
King prawn, pork, beef & chicken
£5.50
Plain Chop Suey
Suitable for vegetarian
£4.00
Chicken with Cashew Nuts in Yellow Bean Sauce
£5.00
Chicken with Green Pepper in Black Bean Sauce
Hot
£5.00
Chicken with Mixed Vegetable
£5.00
Chicken Chinese Style
With bean sprouts
£5.00
Stir Fried Chicken in Satay Sauce
£5.00
Crispy Shredded Chicken in Chilli
Hot
£6.00
Crispy Shredded Beef in Chilli
Hot
£6.00
Beef with Cashew Nuts in Yellow Bean Sauce
£5.00
Beef with Green Pepper in Black Bean Sauce
Hot
£5.00
Beef with Ginger & Spring Onions
£5.00
Stir Fried Beef in Satay Sauce
£5.00
Roasted Pork Chinese Style
With bean sprouts
£5.00
Roasted Pork with Green Pepper in Black Bean
Sauce
Hot
£5.00
Roasted Pork with Ginger & Spring Onions
£5.00
Roasted Pork with Mixed Vegetable
£5.00
Double Cooked Pork Szechuan Style
Hot
£5.00
Pork in Thai Style Chilli Sauce
Hot
£5.00
Roasted Pork with Cashew Nuts in Yellow Bean
Sauce
£5.00
King Prawns with Green Pepper in Black Bean
Sauce
Hot
£6.00
King Prawns with Ginger & Spring Onions
£6.00
King Prawns with Mixed Vegetables
£6.00
King Prawns with Broccoli
£6.00
Squid in Thai Style Chilli Sauce
Hot
£6.00
Squid with Ginger & Spring Onions
£6.00
Roasted Duck Chinese Style
With bean sprouts
£6.50
Duck with Green Pepper in Black Bean Sauce
Hot
£6.00
Roasted Duck with Cashew Nuts in Yellow Bean
Sauce
£6.00
Thai Special Curry Green
Chicken, pork, beef & king prawns
Hot
£6.50
Thai Special Curry Red
Chicken, pork, beef & king prawns
Hot
£6.50
King Prawns Curry Green
Hot
£6.50
King Prawns Curry Red
Hot
£6.50
Bean Curd Curry Green
Suitable for vegetarian
Hot
£5.50
Bean Curd Curry Red
Suitable for vegetarian
Hot
£5.50
Stir Fried Mixed Vegetables
Suitable for vegetarian
£4.20
Stir Fried Mushroom with Oyster Sauce
Suitable for vegetarian
£4.20
Stir Fried Broccoli with Garlic
Suitable for vegetarian
£4.20
Bean Curd in Szechuan Sauce
Suitable for vegetarian
Hot
£4.70
Bean Curd with Mixed Vegetable
Suitable for vegetarian
£4.70
Bean Curd in Thai Style Chilli Sauce
Suitable for vegetarian
Hot
£4.70
Bean Curd with Cashew Nuts in Yellow Bean Sauce
Suitable for vegetarian
£4.70
Bean Curd in Black Bean Sauce
Suitable for vegetarian
£4.70
Vegetarian Chicken A. Black Bean Sauce (H)
Suitable for vegetarian
£5.00
Vegetarian Chicken B. Szechuan Sauce
Suitable for vegetarian
£5.00
Vegetarian Chicken C. Yellow Bean Sauce
Suitable for vegetarian
£5.00
Vegetarian Chicken D. With Mixed Vegetable
Suitable for vegetarian
£5.00
Pak Choi with Garlic
Suitable for vegetarian
£5.30
Mushroom Omelette
Suitable for vegetarian
£4.70
Chips
Suitable for vegetarian
£2.30
Special Set Meal For 1 Person
• Sweet & sour chicken balls (5)
• Chicken with mushroom
• Egg fried rice (small)
£9.00
Special Set Meal A For 2 Persons - Popular Feast
• Vegetarian spring rolls (8)(with sweet chilli dip)
• Chicken balls (10)
• Chicken with green pepper in black bean sauce
• Roast pork with mixed vegetable
• Egg fried rice OR plain chow mein
£20.00
Special Set Meal B For 2 Persons - Spicy Feast
• Vegetarian spring rolls (8)(with sweet chilli dip)
• Salt & pepper chicken wings
• Crispy shredded beef (Hot)
• Double cooked pork szechuan style (Hot)
• Egg fried rice OR plain chow mein
• Free chilli oil
£21.00
Special Set Meal C For 2 Persons - Seafood Feast
• Sesame prawn on toast (1 toast with sweet chilli dip)
• King prawn balls (8)
• King prawn with mixed vegetable
• Squid with ginger & spring onions
• Mixed seafood fried rice OR chow mein (king prawn, squid & mussels)
£26.00
Special Set Meal D For 2 Persons - Vegetarian Feast
• Vegetarian spring rolls (8)
• Bean curd with mixed vegetable
• Broccoli with garlic
• Vegetarian chicken in black bean sauce
• Mixed vegetable fried rice OR chow mein
Suitable for vegetarian
£21.00
Contact Us
Find Us
173 Whitehorse Lane, London, SE256RB
We deliver to
CR0, CR7, SE13, SE19, SE20, SE25, SE26, SW16